Temperature Sensor Electronic Project Kits Modules | Quasar
Temperature Sensor Electronic Kits Modules Circuit Boards. Wide range for industrial, professional, educational and hobby applications
Temperature Sensors
Temperature Sensors
Temperature Sensors from our Electronic Kits & Modules range for industrial, professional, educational and hobby applications
You can use the Product Filters below to narrow the selection. If you require help choosing the right product for your needs please call us on 01279 467799 or use our Contact Form.
Digital thermostatic temperature controller relay board. 4-digit LED display. Turn AC/DC heating or cooling equipment on/off within user set temperature range. Hysteresis adjustment +/- 25 deg C. Accuracy 0.5 deg C. 12 / 24V supply...
£54.98 Exc VAT, £65.98 Inc VAT
In Stock (Our UK Warehouse)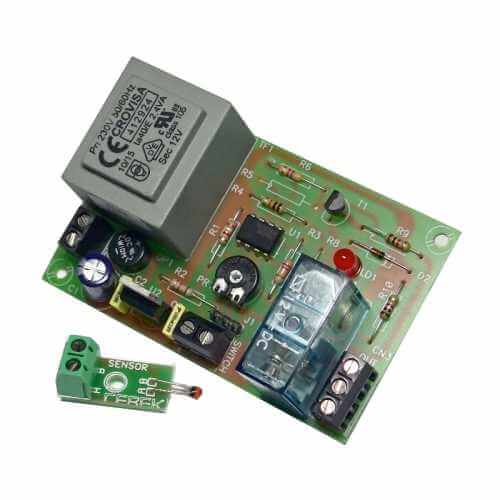 230Vac temperature controlled relay board thermostatic switch. Control an AC/DC fan, heater, incubator, etc. to turn either On or Off when temperature falls or rises 0.5 Deg C either side of the user-adjustable trigger temperature. Separate sensor board...
£16.48 Exc VAT, £19.78 Inc VAT
In Stock (Our UK Warehouse)
USB digital thermostat with separate temperature sensor board, preset function (Heat or Cool), 4 digit 13mm LED display and mains rated relay output....
From £60.04 Exc VAT, £72.05 Inc VAT
Exec Time: 0.102308 Seconds Memory Usage: 4.309662 Megabytes