Audio Power Meter Electronic Project Kits Modules | Quasar
Audio Power Meter Electronic Kits Modules Circuit Boards. Wide range for industrial, professional, educational and hobby applications
Audio Power Meter Kits
Audio Power Meter Kits
Audio Power Meters from our Electronic Kits & Modules range for industrial, professional, educational and hobby applications
You can use the Product Filters below to narrow the selection. If you require help choosing the right product for your needs please call us on 01279 467799 or use our Contact Form.
K8098 Audio Analyser SELF-ASSEMBLY electronic kit is a small and compact unit, ideal for panel mounting. Give your homemade audio gear a high-tech look. Upgrade existing equipment. Provides Peak Power, RMS Power, Mean Db, Peak Db, Linear Audio Spectrum and 1/3 Octave Audio Spectrum...
From £12.46 Exc VAT, £14.95 Inc VAT
M4307C Audio Power Meter 1000W RMS Module allows instant visualisation of signal levels coming from a speaker output source. A special input allows direct connection to a speaker output...
£13.95 Exc VAT, £16.74 Inc VAT
In Stock (Our UK Warehouse)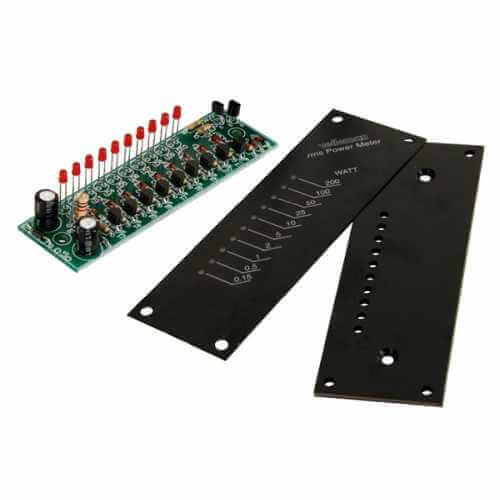 K4307 Audio Power Meter electronic kit provides a 10 LED scale, up to 2000Wrms power measurements. Does not need a special power supply, because it is supplied directly from the speaker output...
£12.95 Exc VAT, £15.54 Inc VAT
In Stock (Our UK Warehouse)
Exec Time: 0.101758 Seconds Memory Usage: 4.27607 Megabytes