3 Channel RGB LED Light Organ Electronic Kit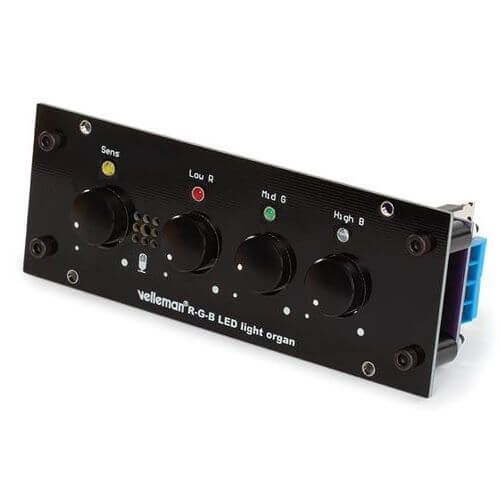 12V or 24V, 5A 1-channel sound to light modulator kit. Built-in microphone. Adjustable sensitivity. Panel mounting. For LED strips, halogen, incandescent, LED lamps...
Electronics > Circuit Boards & Components > Printed Circuit Boards > Development Boards
WSL209
WSL209
WSL209
5410329726065
14.10
Quasar Electronics Limited
https://quasarelectronics.co.uk/Item/whadda-wsl209-3-channel-rgb-led-light-organ-kit
3 Channel RGB LED Light Organ Electronic Kit
Whadda WSL209 - 3 Channel RGB LED Light Organ Electronic Kit
Take your party scene to the next level with this excellent value 3 channel RGB LED light organ solder kit!
Once soldered and assembled, this kit will enable you to let the LEDs of a 12V or 24V RGB LED strip 'dance' to music or to any other sound!
You can also use it with separate coloured LED strips or even separate LEDs. The internal microphone filters the music into low, mid and high frequencies and depending on those values, it will control the red, green and blue luminosity of the LED strip. By using the sensitivity adjustment per channel, you can easily modify the result of the effects to light up your room or party.
As for mounting the kit, it comes with a modular front panel concept for easy cabinet or panel mount. And to make it look professional, we added 4 smooth turning knobs to control it.
Features
connect an RGB LED strip or separate colour LED strips or LEDs
modular concept for easy cabinet /panel mount
on-board microphone will react to the surrounding sound or music
the 3 outputs will react at different sound frequencies

low sound frequencies correspond with red light
mid sound frequencies correspond with green light
high sound frequencies correspond with blue light

separate sensitivity adjustment
global sensitivity adjustment
wide power supply input from 12 to 24 VDC
easy connection, supply in > LED out
screw or jack power supply connection
Specifications
max 1.25 A per channel
power supply: 12 or 24 VDC
up to 15 W / channel at 12 V supply
up to 30 W / channel at 24 V supply
front dimensions: 127 x 46 mm
Product format: SELF-ASSEMBLY electronic kit (KT Product Formats Info)
Buy Whadda WSL209 3 Channel RGB LED Light Organ Electronic Kit
£5.25 Exc VAT, £6.30 Inc VAT
In Stock (Our UK Warehouse)
Exec Time: 0.052873 Seconds Memory Usage: 4.718903 Megabytes