7W Mono Audio Amplifier Module (TDA2003)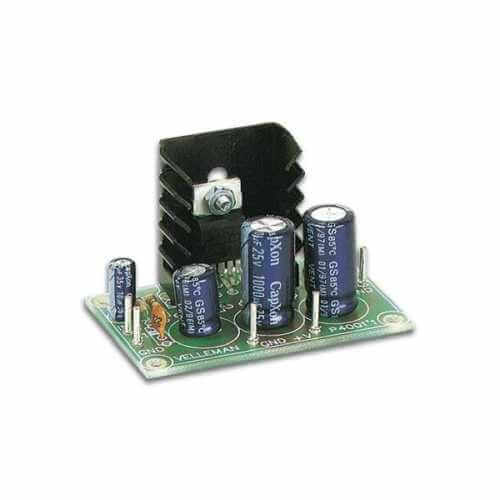 Velleman
7W mono audio amplifier module constructed around a TDA2003 IC capable of delivering 4Wrms at 4ohms. Thermally and short-circuit protected. 8-18Vdc supply...
Electronics > Circuit Components > Printed Circuit Boards > Development Boards
VM114
VM114
5410329311605
9.00
Quasar Electronics Limited
https://quasarelectronics.co.uk/Item/velleman-vm114-7w-mono-audio-amplifier-module
7W Mono Audio Amplifier Module (TDA2003)
Whadda WMAH114 (Velleman VM114) - 7W Mono Audio Amplifier Module (TDA2003)
The Velleman VM114 is a 7W mono audio power amplifier module built around the popular TDA2003 IC. Capable of delivering 4W rms at 4 Ohms. IC is completely thermally and short-circuit protected. Requires a simple 8-18Vdc power supply.
Also available in SELF-ASSEMBLY Electronic Kit format:Order Code K4001
Specifications
music power output: 7W / 4 Ohm
output: 3.5Wrms / 4ohm or 2Wrms / 8ohm
total harmonic distortion: 0.05% (1W / 1kHz)
frequency response: 20Hz to 20kHz (-3dB)
signal-to-noise ratio: 86dB (A weighted)
input sensitivity: 40mV / 150Kohm
overload and short-circuit protected
supply voltage: 15Vdc (8 to 18Vdc possible) / 0.5A
dimensions: 55 x 35mm (2.2" x 1.4")
Product format: PRE-ASSEMBLED Electronic Module Product Format Info
Velleman VM114 Documentation
Buy Velleman VM114 7W Mono Audio Amplifier Module
£6.50 Exc VAT, £7.80 Inc VAT
In Stock (Our UK Warehouse).
From £13.29 Exc VAT, £15.95 Inc VAT
Exec Time: 0.053967 Seconds Memory Usage: 4.739937 Megabytes