I/O Shield Kit for Arduino UNO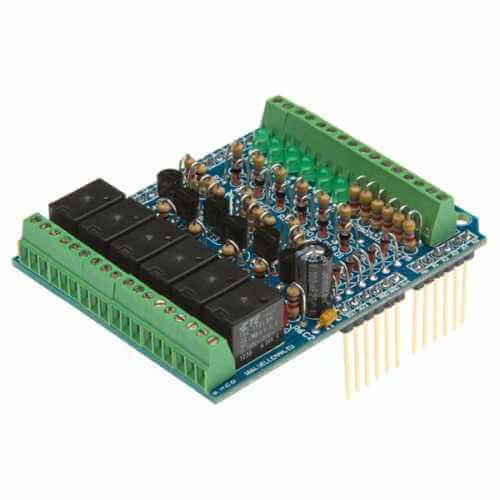 Velleman
General purpose INPUT - OUTPUT shield for your Arduino UNO. 6 relay outputs. 6 analog inputs. 6 digital inputs. Downloadable sample sketch. Stackable design. 1A max. load per output. 120V max. per output...
Electronics > Circuit Components > Printed Circuit Boards > Development Boards
KA05
KA05
5410329556778
18.54
Quasar Electronics Limited
https://quasarelectronics.co.uk/Item/velleman-ka05-in-out-shield-arduino
I/O Shield Kit for Arduino UNO
Velleman KA05 - I/O Shield Kit for Arduino UNO
General purpose INPUT - OUTPUT shield for Arduino UNO™.
Also available as a pre-assembled module VMA05
Features
6 relay outputs
6 analog inputs
6 digital inputs
downloadable sample sketch
stackable design: the shield can be stacked with other shields
large user community
requires 1 Arduino UNO™ (not included)
Specifications
1 A (max.) load per output
120 V max. per output
uses pin 8 to 13 as outputs, pin A0 to A5 as analog inputs, and pin 2 to 7 as digital inputs
dimensions: 68 x 53mm / 2.67 x 2.08"
Documentation
Software
Velleman KA05 Sample Code Example code to load into your Arduino UNO. Demonstrates how to control the KA05 input/output shield.
Buy Velleman KA05 IN/OUT Shield Kit for Arduino
Receive an in stock email notification for this item as soon as it becomes available.
Velleman KA05 - I/O Shield Kit for Arduino UNO
£15.45 Exc VAT, £18.54 Inc VAT
Exec Time: 0.057761 Seconds Memory Usage: 4.905693 Megabytes