Audio Power Meter 2000Wrms Electronic Kit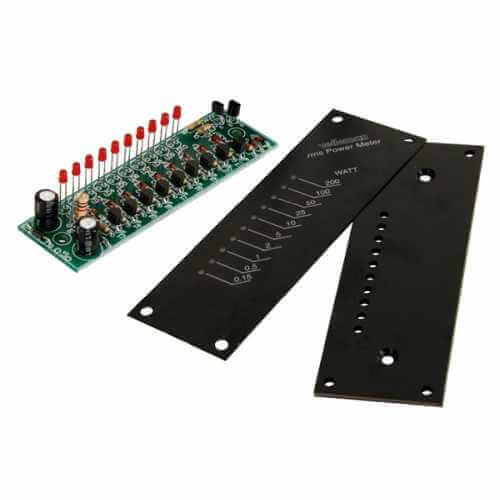 Velleman
Capable of handling power measurments up to 2000Wrms. Powered directly from speaker output. Front panel with 4 different scale stickers included. Ideal for car audio and PA systems...
Electronics > Circuit Components > Printed Circuit Boards > Development Boards
K4307
K4307
5410329043070
View Offer
Quasar Electronics Limited
https://quasarelectronics.co.uk/Item/velleman-k4307-audio-power-meter-kit
Audio Power Meter 2000Wrms Electronic Kit
Velleman K4307 - Audio Power Meter 2000Wrms Electronic Kit
This product is discontinued by the manufacturer and no longer available. Please see category links above for alternative products.
This SELF-ASSEMBLY electronic kit provides a 10 LED scale Audio Power Meter capable of handling power measurments of up to 2000Wrms. Does not need a special power supply, because it is supplied directly from the speaker output.
Ideal for car audio systems and PA systems. Also usable for bridged amplifiers. The unit can be used both horizontal and vertical.
The kit comes with a front panel and four attractive front stickers, for the different scales.
Features
Specifications
four different scales:

at 4 ohm load in low power mode: 0.3 to 400Wrms
at 4 ohm load in high power mode: 10 to 2000Wrms
at 8 ohm load in low power mode: 0.15 to 200Wrms
at 8 ohm load in high power mode: 5 to 1000Wrms

minimum input sensitivity: 1.1Vrms (low power mode)
maximum input voltage: 130Vpeak (high power mode)
current consumption: 25mA at full scale
luminous intensity: 8 to 20mcd / LED
dimensions: 120 x 40 x 28mm (4.7" x 1.6" x 1.1")
Product format: SELF-ASSEMBLY electronic kit (KT Product Formats Info)
Buy Velleman K4307 Audio Power Meter Kit (2000W RMS)
£8.95 Exc VAT, £10.74 Inc VAT
In Stock (Our UK Warehouse)
From £24.95 Exc VAT, £29.94 Inc VAT
£13.95 Exc VAT, £16.74 Inc VAT
In Stock (Our UK Warehouse)
Exec Time: 0.050345 Seconds Memory Usage: 4.688499 Megabytes