Electronic Barking Dog Alarm Kit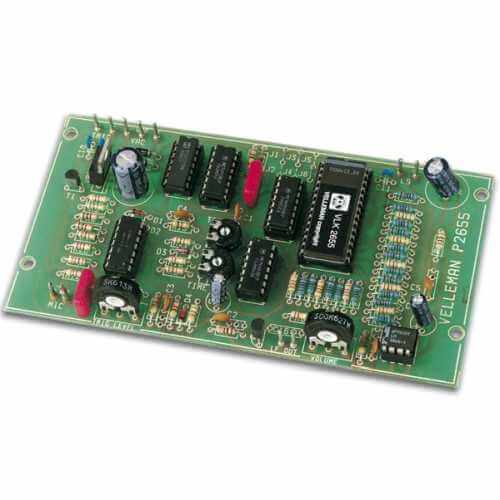 Velleman
24/7 electronic security guard dog. 2 natural sounding barks. Sound activated with adjustable 'ear' sensitivity. Trigger input for external detectors....
Electronics > Circuit Components > Printed Circuit Boards > Development Boards
K2655
K2655
5410329026554
View Offer
Quasar Electronics Limited
https://quasarelectronics.co.uk/Item/velleman-k2655-electronic-watchdog-kit
Electronic Barking Dog Alarm Kit
Velleman K2655 - Electronic Barking Dog Alarm Kit
This product is obsolete/discontinued and no further stocks are available. Please see alternatives in the category links above.
This Electronic Watchdog Alarm SELF-ASSEMBLY kit is a sound activated circuit that produces a natural sounding barking dog with a sensitive "ear" to everything that comes near it.
The "ear" is a small electret microphone with adjustable sensitivity.
The board has a secondary trigger input for use with a photo-electric cell, motion detector, smoke detector, etc.. (not included). This input requires a volt-free contact closure (relay, push-button, etc.).
It is a faithful guard dog that never sleeps or needs to be taken for a walk.
Specifications
Feeds on: 2 x 8Vac or 9 - 12Vdc / 500mA
choice of two different "dog sounds"
reacts to surrounding noise with adjustable sensitivity
secondary trigger input to connect other detectors (photo-electric cell, motion detector, smoke detector, etc...)
Adjustable bark output volume, duration and tone
speaker output: 2W at 4 Ohm
Secondary AF output to drive larger amplifier
PCB dimensions: 142 x 75mm (5.6" x 3.0")
Suitable housing: WCAH2851
Suitable power adapter: 660.446UK
Product format: SELF-ASSEMBLY electronic kit (KT Product Formats Info)
Buy 1-9:
£3.29 Exc VAT, £3.95 Inc VAT Each
Buy 10+:
£2.80 Exc VAT, £3.36 Inc VAT Each
Exec Time: 0.04947 Seconds Memory Usage: 4.70089 Megabytes