AC Motor Speed Controller (230Vac, 600W)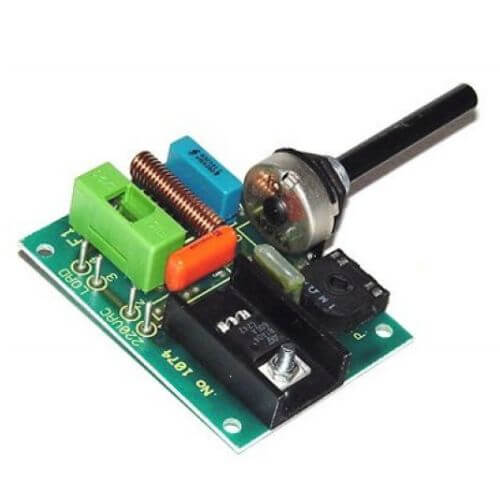 Smart Kit Electronics
This well designed and simple to install project will let you adjust the speed of your electric drill according to the job at hand...
Electronics > Circuit Components > Printed Circuit Boards > Development Boards
1074KT
1074KT
16.27
Quasar Electronics Limited
https://quasarelectronics.co.uk/Item/smart-kit-1074-ac-motor-speed-controller-230vac
AC Motor Speed Controller (230Vac, 600W)
AS1074KT - AC Motor Speed Controller (230Vac, 600W)
Reliable and simple to install project that allows you adjust the speed of a 230Vac 50Hz mains powered electric drill or single phase brushed "universal" AC motors rated up to 600 Watts maximum. Simply turn the potentiometer to adjust the motors RPM.
Features
Uses a proven diac/triac based circuit
Preset trimmer for setting lowest rotational speed required
Onboard safety fuse
Heatsink included
Kit version includes solder for assembly
Not suitable for use with AC induction motors or capacitor-start/run AC motors
Please note that some loss of power occurs at low RPMs.
PRODUCT SELECTION NOTES: The motor controller should have an output load capacity at least 25% above the motors peak power requirement. Please do NOT rely on motor rating plates for power consumption figures as they often quote average not peak power. You should verify the actual peak power at start-up and under full load before selecting an appropriate size motor controller. Not suitable for use with brushless AC motors and capacitor-start/run AC motors.
Specifications
Working voltage
230Vac 50Hz mains
Maximum Output Power
600 Watts (3.0Amps @ 230Vac)
Board Dimensions
65 x 48 x 25mm
Enclosure
WCAH2853
Control Knob
KB0295
EMI Mains Filter
C8202
Board Connections
Solder Posts
Product Formats
SELF-ASSEMBLY Electronic Kit (KT) or
PRE-ASSEMBLED Electronic Module (AS) Product Formats Info
Documentation
1074 User Manual
WARNING
Product operates at mains voltage and is not suitable for children. An isolating enclosure is required (not included). Assembly, installation, testing and commissioning should be performed by a competent person. Mains Electricity Info
Get discounted pricing on Special Offer items when you buy today.
Exec Time: 0.051841 Seconds Memory Usage: 4.827873 Megabytes