8-Channel Slave Relay Expansion Module for TL-422/TL-423, 12Vdc (Group 3)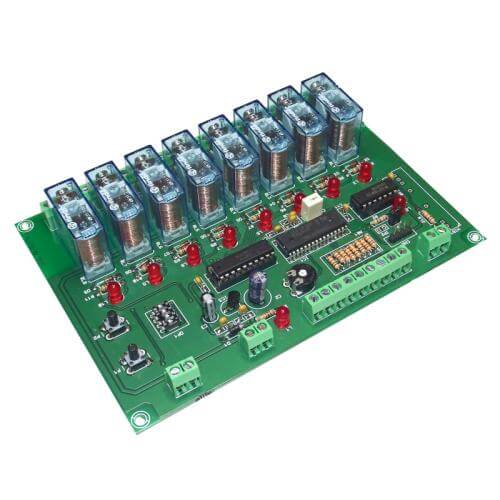 Cebek
8 channel slave relay expansion module for Cebek TL-422 and TL-423 RF remote control receiver boards. Choice of Momentary, Toggling and Delay Timer operation modes for EACH channel...
Electronics > Circuit Components > Printed Circuit Boards > Development Boards
TL-425
TL-425
94.75
Quasar Electronics Limited
https://quasarelectronics.co.uk/Item/cebek-tl-425-8-channel-relay-expansion-module
8-Channel Slave Relay Expansion Module for TL-422/TL-423, 12Vdc (Group 3)
Cebek TL-425 (CTL425) - 8-Channel Slave Relay Expansion Module for TL-422/TL-423, 12Vdc (Group 3)
The Cebek TL-425 is an 8-Channel slave relay expansion module for the 4-Channel (TL-422) or 8-Channel (TL-423) master modules. It provides 8 additional independently controllable relay outputs with Momentary, Toggling/Latching or Delay Timer operating modes.
Each relay output on this receiver board can be set individually to operate in the following modes:
MOMENTARY MODE: Relay turns on only while the transmitter button is held down and turns off 1 second after button is released
TOGGLING/LATCHING MODE: relay activates at the first push of the transmitter button and disconnects after a second push of the button
TIMER MODE: relay activates for a user adjustable on-time of between 0.1 and 132 Seconds. Timer is a non-cumulative retriggerable type. Any further button presses made while the timer is active will restore the full delay time (non-cumulative) without interrupting the relay. If no new triggers are received before the delay timeout is reached, the relay will turn off and the channel reset ready for a new trigger signal.
Reset Inputs: each channel has a reset input to immediately turn off (or disable) the corresponding relay output (all operating modes). Connect to volt-free contact closure like a switch, manual over-ride button, etc. All channels are disabled if any of the reset inputs remain closed.
From our Group 3 range of 433.92MHz RF remote control modules.
Specifications
Operating Voltage
12Vdc
Current Consumption
450mA max
Suitable Power Supply
CFE123
Output
8 x SPDT Relay
Maximum Output
Load (Resistive)
Up to 240Vac or 28Vdc @ 3 Amps max. (Relay Datasheet)
Relay Connections
NO, NC, C (Relay FAQ)
Output Channels
8
Relay Action
Momentary, Latching or Timer (0.1 to 132 Seconds)
RF Frequency
433.92 MHz
Compatibility
RF Group 3
Board Connections
Screw terminal blocks
Board dimensions
~ 154x 107 x 30 mm
DIN-RAIL Mount
C7592
Weight
250g
Product Format
PRE-ASSEMBLED Electronic Module Product Format Info
Compatible GROUP 3 Master Modules
TL-422
Expandable 4-Channel Momentary / Toggle / Timer Relay Receiver Module, 12Vdc
TL-423
Expandable 8-Channel Momentary / Toggle / Timer Relay Receiver Module, 12Vdc
NB You cannot use multiple button presses or simultaneously use two transmitters if they are operating in range of one another (regardless of their coding).
Compatible GROUP 3 Transmitters
| | |
| --- | --- |
| TL-420 | 4-Channel Handheld RF Remote Control Transmitter, 100m |
| TL-421 | 8-Channel Handheld RF Remote Control Transmitter, 100m |
| TL-428 | 16-Channel Handheld RF Remote Control Transmitter, 100m |
| TL-429 | 8-Channel Remote Control Transmitter Module, 100m |
| TL-430 | 4-Channel Handheld RF Remote Control Transmitter, 300m |
| TL-431 | 8-Channel Handheld RF Remote Control Transmitter, 300m |
| TL-432 | 16-Channel Remote Control Transmitter Module, 100m |
| TL-438 | 16-Channel Handheld RF Remote Control Transmitter, 300m |
| TL-439 | 8-Channel Remote Control Transmitter Module, 300m |
| TL-442 | 16-Channel Remote Control Transmitter Module, 300m |
£69.30 Exc VAT, £83.16 Inc VAT
Preorder: Despatch in 6-10 days
£97.02 Exc VAT, £116.42 Inc VAT
Preorder: Despatch in 6-10 days
Exec Time: 0.046271 Seconds Memory Usage: 4.747017 Megabytes