Audio Signal Controlled Relay Switch Module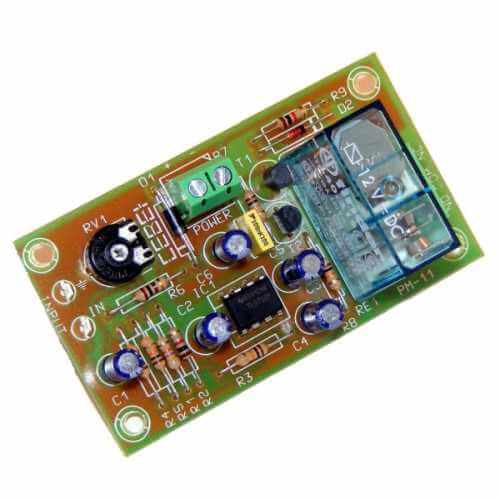 Cebek
Audio Signal Controlled Relay Switch Module. This non-latching relay switch will switch the relay on in response to an audio input signal...
Electronics > Circuit Components > Printed Circuit Boards > Development Boards
PM-11
PM-11
15.38
Quasar Electronics Limited
https://quasarelectronics.co.uk/Item/cebek-pm-11-audio-signal-controlled-relay-switch-module
Audio Signal Controlled Relay Switch Module
Cebek PM-11 (CPM011) - Audio Signal Controlled Relay Switch Module
The Cebek PM-11 is an audio signal activated switch with a mains rated relay output. It accepts line level audio signals and has a user adjustable trigger level sensitivity.
The non-latching relay turns on when the audio input signal rises above the trigger threshold and turns off immediately the audio signal drops below the trigger threshold.
The PM-11 can be combined with a timer board like the I-1, I-30 or I-38 if you wish to have an adjustable turn-off delay time (please check the product pages of these timer boards for information on how they will interact with the PM-11)
Features
User adjustable audio trigger sensitivity
Non-latching relay output rated to switch up to 5 Amps
LED status indicator
Reverse polarity protection
Operating voltage 10-15V dc
TL071 based circuit
Supplied fully assembled and tested so you only need to connect it up and adjust the input sensitivity to suit your needs.
Specifications
Supply Voltage
10 - 15 Vdc (e.g. CFE103 or CFE002)
Current Consumption
2 - 60mA
Input Signal
10 - 300 mV max.
Frequency Response
30 - 15 000 Hz
Input impedance
560 Ohm
Output
1 x SPDT Relay
Maximum Output
Load (Resistive)
Up to 240Vac or 28Vdc @ 5 Amps max. (Relay Datasheet)
Relay Connections
NO, NC, C (Relay FAQ)
Dims. (WxDxH)
75 x 40 x 30 mm
Enclosure
WCAH2853
Product Format
PRE-ASSEMBLED Electronic Module Product Format Info
£11.64 Exc VAT, £13.97 Inc VAT
In Stock (Our UK Warehouse).
£11.72 Exc VAT, £14.06 Inc VAT
In Stock (Our UK Warehouse).
Buy 1-4:
£13.54 Exc VAT, £16.25 Inc VAT Each
Buy 5+:
£12.79 Exc VAT, £15.35 Inc VAT Each
In Stock (Our UK Warehouse).
Exec Time: 0.046534 Seconds Memory Usage: 4.762543 Megabytes