50 Message Programmable LCD Display (20x2 Illuminated)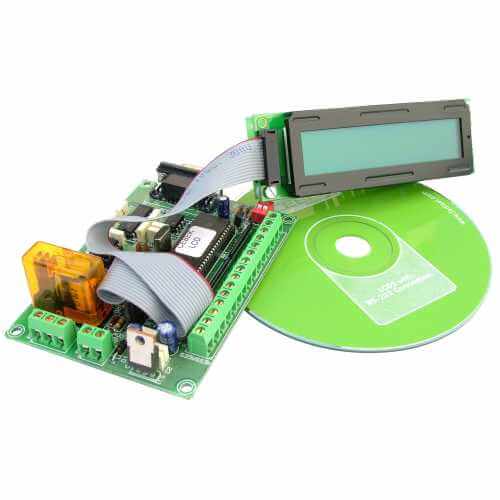 50 message programmable LCD display module. 2 lines 20 characters. Program using onboard RS-232 serial port. Windows software supplied. Relay output...
Electronics > Circuit Components > Printed Circuit Boards > Development Boards
EC-15
EC-15
View Offer
Quasar Electronics Limited
https://quasarelectronics.co.uk/Item/cebek-ec-15-50-message-programmable-lcd-display-20x2
50 Message Programmable LCD Display (20x2 Illuminated)
Cebek EC-15 (CEC015) - 50 Message Programmable LCD Display (20x2 Illuminated)
This product is discontinued by the manufacturer and no longer available. Please see category links above for alternative products.
50 message, programmable LCD display, with 2 lines of 20 characters. One default message and up to 49 other messages are programmable using an onboard RS-232 serial port and supplied Windows software.
Any of the 49 remaining pre-programmed messages can be displayed by closing the respective onboard 7x7 matrix terminals.
The module includes protection against inverse polarity, indicator LED and screw terminal connections. Simply install the supplied software on a Windows PC equipped with an serial port and software
Features
RS-232 serial connector for quick message programming
default message - displayed when no one of the 49 pre-recorded messages is selected
Hierarchical or Rotary display modes - when several messages are selected at the same time Hierarchical Mode displays the most important message only (number 1 first moving down to 49 as the message inputs are released); Rotary Mode displays all selected messages sequentially
external message activation using any make contact e.g. switches, relays, open collector outputs or simply push buttons
single or dual line messages
Character set includes lower and uppercase letters, 0-9 and

relay output for controlling external devices. Can be programmed to activate with a single or combination of messages and have a timed or conditional deactivation
luminescence control
Fits into a DIN-RAIL Ref. C-7585
Specifications
Power Supply
12Vdc e.g. Order Code 660.446UK with connector 777.001UK
Current Consumption
20 - 450mA
PC Connection
M-F serial lead (Order Code LDC441)
Display
2 lines x 20 character
Character Height
5.6 mm
Message Memory Type

Non-volatile

Illumination option
Yes
Output
1 x SPDT Relay
Maximum Output
Load (Resistive)
Up to 240Vac or 28Vdc @ 5 Amps max. (Relay Datasheet)
Relay Connections
NO, NC, C (Relay FAQ)
Reverse Polarity Protection
Yes
LCD Module Dimensions
95 x 35 mm
LCD Visible Area:
85 x 20 mm
Board Dimensions (WxHxD)
Display Board: 115 x 30 x 35 mm
Control Board: 105 x 25 x 75 mm
Weight
280g
Board Connections
Screw terminal blocks
Product Format
Pre-Assembled electronic module
£29.95 Exc VAT, £35.94 Inc VAT
In Stock (Our UK Warehouse).
Buy 1-4:
£56.89 Exc VAT, £68.27 Inc VAT Each
Buy 5+:
£50.00 Exc VAT, £60.00 Inc VAT Each
In Stock (Our UK Warehouse).
£29.13
£22.81 Exc VAT, £27.37 Inc VAT
(Save 22%)
In Stock (Our UK Warehouse).
Exec Time: 0.046686 Seconds Memory Usage: 4.761124 Megabytes