Intelligent Melody Activated Access Control Module for Door Bells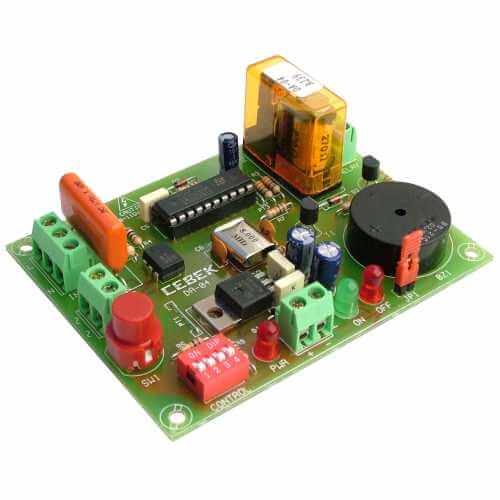 Cebek
Melody activated access controller for door bell and solenoid lock. Access granted only when correct melody is played on bell push. Records personalised melody. Relay output. Adjustable ON time. Auto-blocking...
Electronics > Circuit Components > Printed Circuit Boards > Development Boards
DA-04
DA-04
27.35
Quasar Electronics Limited
https://quasarelectronics.co.uk/Item/cebek-da-04-intelligent-door-bell-module
Intelligent Melody Activated Access Control Module for Door Bells
Cebek DA-04 (CDA04) - Intelligent Melody Activated Access Control Module for Door Bells
The Cebek DA-04 is an intelligent "melody" activated access control module for use in conjunction with a door bell and solenoid operated door lock. It will only allow access when the correct "melody" is played on the bell push.
You can record your own personalised melody and it is stored in non-volatile memory for subsequent comparison. The module will only activate the control relay when the person who presses the bell push plays exactly the same melody as previously recorded. Otherwise, the bell will just ring as normal.
The relay output time is adjustable between 1 and 4 seconds. The module includes auto-blocking against failed access attempts (5 minutes or power-off reset), outputs to open door, push button for the ring, LED's and on-board buzzer (that can be disabled). The personalised melody can be re-recorded as required.
Door solenoid, bell push, door bell, power supply, etc. are not included.
Specifications
Operating Voltage
12Vdc
Current Consumption
70mA
Suitable Power Supply
CFE103
Output
1 x SPDT Relay
Maximum Output
Load (Resistive)
Up to 240Vac or 28Vdc @ 5 Amps max. (Relay Datasheet)
Relay Connections
NO, NC, C (Relay FAQ)
Output 2

Buzzer
Board Connections
Screw terminal blocks
Dimensions (WxDxH)
~ 94 x 72 x 30mm
Weight
90g
Product Format
PRE-ASSEMBLED Electronic Module Product Format Info
Exec Time: 0.045145 Seconds Memory Usage: 4.801399 Megabytes