Handy SPDT 5A Mains Relay Board (6-12-24Vdc Input Versions)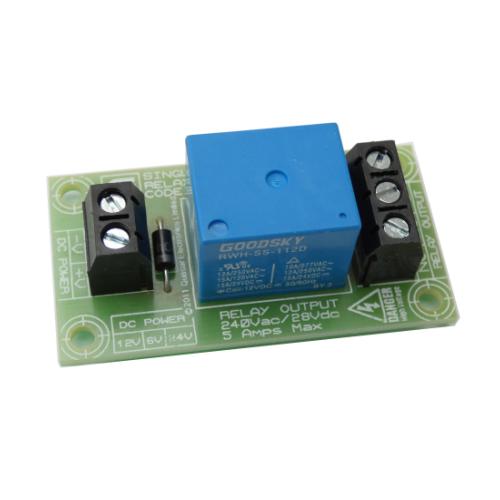 Quasar Electronics
Handy little relay board with 5 Amp mains rated SPDT relay output. 6, 12 or 24 Vdc input voltage versions. Screw terminal blocks for connections...
Electronics > Circuit Components > Printed Circuit Boards > Development Boards
8043KT
8043KT
8.34
Quasar Electronics Limited
https://quasarelectronics.co.uk/Item/8043-handy-spdt-5a-mains-relay-board
Handy SPDT 5A Mains Relay Board (6-12-24Vdc Input Versions)
AS8043-6-12-24KT - Handy SPDT 5A Mains Relay Board (6-12-24Vdc Input Versions)
Product Formats Available : Pre-Assembled Module (AS) or
Self-Assembly Electronic Kit ( Soldering Required)
Available in 6V, 12V & 24Vdc relay coil versions, these handy little relay boards use a small PCB to carry a mains rated SPDT relay with Normally Open and Normally Closed connection options.
Electrical isolation is provided solely by the relay coil /contact interface (see relay datasheet for specifications). If your application requires a greater degree of electrical isolation then we recommend you use one of our opto-isolated relay boards instead.
The board includes a back-emf protection diode across the relay coil.
See order code 8045KT for a 2 channel version of this product.
Specifications
Input voltage
6-12-24Vdc versions available
Current consumption
30mA approx (relay active)
Output Type
1 x SPDT Relay
Maximum Output
Load (Resistive)
Up to 240Vac or 28Vdc @ 5 Amps max. (Relay Datasheet)
Relay Dielectric Strength
Between coil & contact: 1000Vac 50/60HZ (1 minute)
Between contacts: 500Vac 50/60HZ (1 minute)
Max. On/Off Switching
Electrical: 30 Ops per Minute
Mechanical: 300 Ops per Minute
Output Connections
NO, NC, C (Relay FAQ)
Overall dimensions (mm)
38Wx30Lx20H
Enclosure
WCAH2855
Fixing Holes
2 x M3
Board Connections
Screw terminal blocks
Product Format
SELF-ASSEMBLY Electronic Kit (KT)Product Formats Info
Documentation
User Manual (12V Version)
Useful TTL compatible switched dual mains rated relay board that allows you to control external equipment from a simple 5V logic or LED signal...
From £8.29 Exc VAT, £9.95 Inc VAT
1 channel opto-isolated IO relay board. The optocouplers electrically isolate the control signal of each input from the corresponding mains rated relay output...
£8.77 Exc VAT, £10.52 Inc VAT
In Stock (Our UK Warehouse)
Handy little 2-channel relay board with two independent 5A mains rated SPCO relay outputs. 6, 12 or 24 Vdc input voltage versions. Screw terminal blocks...
From £5.79 Exc VAT, £6.95 Inc VAT
Exec Time: 0.051402 Seconds Memory Usage: 4.663467 Megabytes