Handy SPDT 5A Mains Relay Board (6-12-24Vdc Input Versions)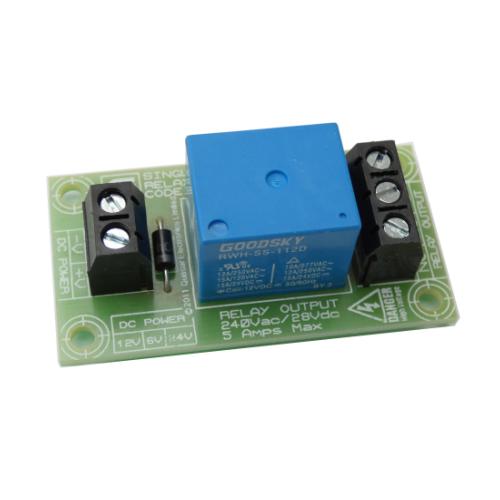 Handy little relay board with 5 Amp mains rated SPDT relay output. 5V, 6V, 12V and 24V dc input voltage versions available. Screw terminal blocks for connections...
Electronics > Circuit Components > Printed Circuit Boards > Development Boards
8043KT
8043KT
8.34
Quasar Electronics Limited
https://quasarelectronics.co.uk/Item/8043-handy-spdt-5a-mains-relay-board
Handy SPDT 5A Mains Relay Board (6-12-24Vdc Input Versions)
AS8043-5-6-12-24KT - Handy SPDT 5A Mains Relay Board (6-12-24Vdc Input Versions)
Available in 5V, 6V, 12V & 24V dc relay coil versions, these handy little relay boards use a small PCB to carry a mains rated SPDT relay with Common, Normally Open and Normally Closed connection options.
Electrical isolation is provided solely by the relay coil /contact interface (see relay datasheet for specifications). If your application requires a greater degree of electrical isolation then we recommend you use one of our opto-isolated relay boards instead.
The board includes a back-emf protection diode across the relay coil.
See order code 8045KT for a 2 channel version of this product.
Specifications
Input Signal:
Input voltage (nominal)
5V dc
6V dc
12V dc
24V dc
Input voltage (minimum)
3.8 dc
4.5V dc
9.0V dc
18V dc
Input voltage (maximum)
6.5V dc
7.8V dc
15.6V dc
31.2V dc
Current (relay active)
73 mA
60 mA
30 mA
15 mA
Coil Impedance
70 Ohm
100 Ohm
400 Ohm
1,600 Ohm
Board Output Rating:
Output Type
1 x SPDT Relay
Output Connections
NO, NC, C (Relay FAQ)
Maximum Output
Load (Resistive)
Up to 240Vac or 28Vdc @ 5 Amps max. per relay (Relay Datasheet)
Relay Performance (at Initial Value):
Contact resistance
100mΩ Max.@ 1A,6VD
Operating time
10 mSec. Max
Release time
5 mSec. Max
Relay Dielectric Strength:
Between coil & contact
1000Vac 50/60HZ (1 minute)
Between contacts
500Vac 50/60HZ (1 minute)
Surge Resistance
3,000V (between Coil & Contact 1.2x50ÁSec.)
Relay ax. On/Off Switching:
Electrical
30 Ops per Minute
Mechanical
300 Ops per Minute
Overall dimensions (mm)
~ 38Wx30Lx20H
Fixing Holes
4 x M3
Enclosure
WCAH2855
Board Connections
Screw terminal blocks
Product Format
SELF-ASSEMBLY Electronic Kit (KT)Product Formats Info
Documentation
User Manual (12V Version)
From £8.29 Exc VAT, £9.95 Inc VAT
Buy 1-4:
£9.87 Exc VAT, £11.84 Inc VAT Each
Buy 5+:
£8.97 Exc VAT, £10.76 Inc VAT Each
In Stock (Our UK Warehouse).
From £5.79 Exc VAT, £6.95 Inc VAT
Exec Time: 0.058612 Seconds Memory Usage: 4.968086 Megabytes