L297/L298 Bipolar Stepper Motor Chopper Driver, 9-36V, 2A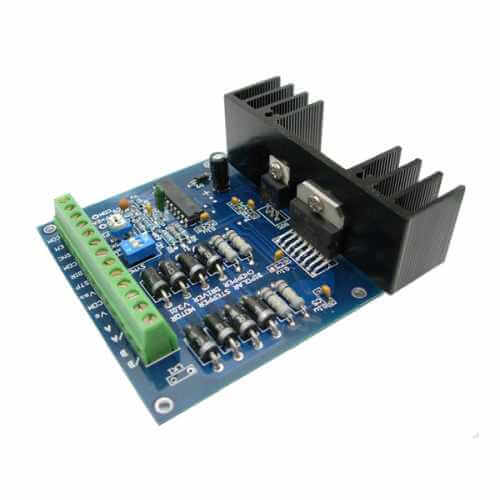 Quasar Electronics
Adjustable current 0-2A per phase. Full-Half stepping. Step and Direction control. 9-36V Motors. Synchroniseable when using multiple drivers...
Electronics > Circuit Components > Printed Circuit Boards > Development Boards
3187KT
3187KT
47.94
Quasar Electronics Limited
https://quasarelectronics.co.uk/Item/3187-bipolar-stepper-motor-chopper-driver
L297/L298 Bipolar Stepper Motor Chopper Driver, 9-36V, 2A
AS3187KT - L297/L298 Bipolar Stepper Motor Chopper Driver, 9-36V, 2A
Our new bipolar chopper driver allows you to get better performance from your stepper motor. It uses a dual full bridge motor driver based on SGS Thompson chips L297 & L298.
Features
Easily adjustable motor current (0 to 2A)
Full and Half stepping modes
Step, Direction and Enable inputs (5V logic level)
Synchroniseable when using multiple drivers
Enable input can be connected to ground to disable motor
Motor current for each phase is set using an on-board potentiometer and the controller is capable of handling motor winding currents of up to 2 Amps per phase.
It operates from a DC supply voltage of 9-36V. The drive provides all basic motor controls, including full or half stepping of bipolar steppers and direction control. Works with large bipolar stepper motors like the MO-101, MO-102 and MO-103.
All signals (Step, Direction, Enable) can be interfaced to external logic or a microcontroller. You can easily control the motor from your computer's parallel port or a serial stepper controller card!
This controller is perfect for desktop CNC applications.
Specifications
Board Supply
9-25Vdc
Motor Supply
9-36Vdc
Motor Current
0 - 2 Amps maximum per phase
Board Dimensions
88Wx105Lx35H
Connections
Screw terminal blocks and solder pads
Product Format
SELF-ASSEMBLY Electronic Kit (KT) or
PRE-ASSEMBLED Electronic Module (AS) Product Formats Info
Documentation
User Manual
Out of stock items are presented below. Click an item name to receive an in stock email notification as soon as it becomes available.
Quasar 3187KT - SELF-ASSEMBLY Bipolar Stepper Motor Chopper Driver Electronic KIT
£33.29 Exc VAT, £39.95 Inc VAT
Quasar AS3187 - PRE-ASSEMBLED Bipolar Stepper Motor Chopper Driver Module
£41.63 Exc VAT, £49.96 Inc VAT
Exec Time: 0.050261 Seconds Memory Usage: 4.87706 Megabytes