4 Channel Wireless RF Remote Control Relay Switch Board with Limit Switch Inputs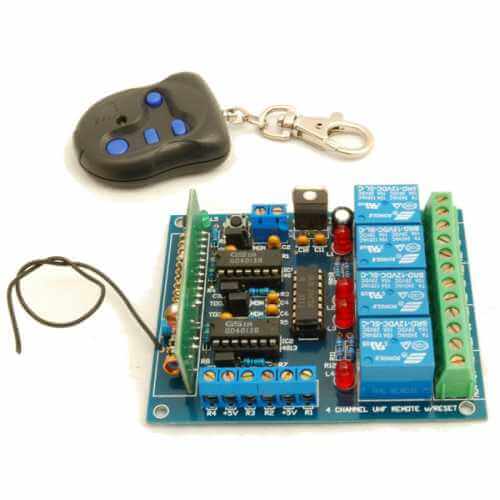 High security 433MHz rolling code 4x 5 Amp mains rated SPDT relay switch kit. Momentary or Toggle mode selector and limit switch inputs for each channel. Up to 15 fobs to 1 receiver. 12vdc...
Electronics > Circuit Components > Printed Circuit Boards > Development Boards
3180KT
3180KT
65.94
Quasar Electronics Limited
https://quasarelectronics.co.uk/Item/3180-4-channel-rolling-code-uhf-remote-control-relay-board-with-reset
4 Channel Wireless RF Remote Control Relay Switch Board with Limit Switch Inputs
AS3180KT - 4 Channel Wireless RF Remote Control Relay Switch Board with Limit Switch Inputs
High quality 4 channel high security (rolling-code) UHF RF wireless remote control relay board and fob set for use in a variety of applications. One receiver board can be used with up to 15 transmitter fobs making it ideal for a multi-user access or control system.
Whether you want to control a garage door or gate, a car or home alarm, or perhaps remotely turn lights or anything else on and off, this system is just what you need. High quality components are used throughout to ensure long service life.
Features
Each independently controllable channel can be set to operate in either MOMENTARY or LATCHING-TOGGLE mode
Up to 3 buttons can be pressed simulataneously on the transmitter and actioned by the receiver board
NEW! Each channel has a Reset input for connection to a limit switch (not supplied). When used in Toggle mode, the relay with automatically turn off when the limit switch is closed. Ideal for garage doors and other control applications (see Reversible DC Motor Connection Diagram Help Sheet)
Up to 15 transmitters can be uniquely coded to work with the receiver board
Uses the latest state-of-the-art rolling code technology making it close-to-impossible to electronically crack
Typical range: 40 metre plus (line of sight)
Each channel has a a relay output rated to switch up to Up to 240Vac or 28Vdc @ 5 Amps max. (Relay Data Sheet) with NO, C, NC connections
LED relay status indicators
The Receiver Module (30A16-Rx) is supplied pre-built for all versions. The Relay Board into which it fits to can be purchased in either kit form (3180KT) or fully assembled (AS3180)
Supplied with one pre-assembled 4-button key fob style Transmitter Unit (Tx). Extra transmitter units (up to 15 per Receiver board) can be purchased separately (Order Code 30A16-Tx).
The transmitter / receiver modules used in this kit are also available separately (Order Code 30A16)
Can also be used with the 2-button key fob transmitter . This will limit user access to channels 1 & 2 only (Order Code 30A17-Tx)
Specifications
Relay Receiver Board
Supply Voltage
Regulated 10 - 15Vdc
Current consumption
Standby <8mA. Add approx 35mA for each active relay
Suitable
Power Supplies
Switching Frequency
~120 operations per minute maximum
Outputs
4 x SPDT Relays (toggle or momentary action)
Maximum Output
Load (Resistive)
Up to 240Vac or 28Vdc @ 5 Amps max. per relay (Relay Datasheet)
Output Connections
NO, NC, C (Relay FAQ)
Inputs
1 reset input per channel (for limit switching)
Dimensions
90 x 75 x 25 mm
Enclosure
WCAH2851
Connections
Screw terminal blocks
Key Fob Transmitter
Supply
12Vdc battery (supplied)
Dimensions
50 x 35 x 15 mm approx
Product Formats
SELF-ASSEMBLY Electronic Kit (KT) or
PRE-ASSEMBLED Electronic Module (AS) Product Formats Info
Documentation
User Manual
Reversible DC Motor Connection Diagram (uses 2 relay outputs per motor)
Out of stock items are presented below. Click an item name to receive an in stock email notification as soon as it becomes available.
Quasar 3180KT - SELF-ASSEMBLY 4-channel UHF Remote Control Set KIT
Buy 1-3:
£45.79 Exc VAT, £54.95 Inc VAT Each
Buy 4+:
£38.92 Exc VAT, £46.70 Inc VAT Each
Quasar AS3180 - PRE-ASSEMBLED 4-channel UHF Remote Control Set
£54.13
£37.46 Exc VAT, £44.95 Inc VAT
£44.96 Exc VAT, £53.95 Inc VAT
Buy 1-9:
£16.63 Exc VAT, £19.96 Inc VAT Each
Buy 10+:
£14.14 Exc VAT, £16.97 Inc VAT Each
Get discounted pricing on Special Offer items when you buy today.
Exec Time: 0.055363 Seconds Memory Usage: 4.794441 Megabytes