LCD Digital Temperature Meter Kit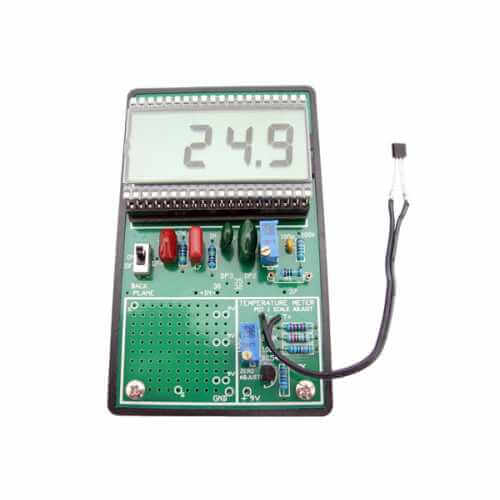 Quasar Electronics
Build an 3 1/2 digit LCD display digital temperature meter kit suitable for measuring temperatures from -30 to +125C...
Electronics > Circuit Components > Printed Circuit Boards > Development Boards
3002BKT
3002BKT
View Offer
Quasar Electronics Limited
https://quasarelectronics.co.uk/Item/3002-lcd-digital-temperature-meter-experimenter-kit
LCD Digital Temperature Meter Kit
3002BKT - LCD Digital Temperature Meter Kit
This product is obsolete/discontinued and no further stocks are available. Please see alternatives in the category links above.
Product Formats Available: Pre-Assembled Module (AS) or
Self-Assembly Electronic Kit ( Soldering Required)
This Electronic kit allows you to build an LCD digital temperature meter with a 3.5 digit display suitable for measuring temperatures from -30 to +125°C. Circuit is based around the popular 7106 Analogue to Digital Converter (ADC) IC.
The instructions also show you how to use the breadboard area of the PCB to extend the circuit to build a digital voltmeter, ammeter, resistance meter or extended-range temperature meter.
Excellent for educational use. Teaches how multimeter's really work. Box provided.
Specifications
Supply
9V PP3 battery (Order Code 656.020)
Dimensions (mm)
100x57x40mm
Product Format
SELF-ASSEMBLY Electronic Kit (KT) or
PRE-ASSEMBLED Electronic Module (AS) Product Formats Info
Documentation
User Manual
Get discounted pricing on Special Offer items when you buy today.
Exec Time: 0.049564 Seconds Memory Usage: 4.575493 Megabytes